Working from Home? Need a Comfortable Chair?
E.J. Schuster's has many like-new office chairs available a great prices!
These chairs are assembled and ready for pick up or quick drop off delivery
Get a great like-new chair at big savings -- and you don't even have to put it together!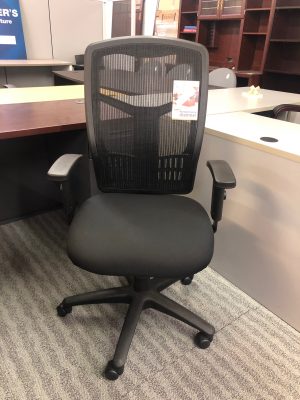 Lorell ErgoMesh Executive High Back
Lots of adjustments mean most everyone can get comfortable in this great chair!
These sell for $250 brand new, but this excellent condition S&D chair is
Just $125
Kimball Office Suites
We have several of these great office suites by Kimball. They include:
Executive L-Shape Desks - 72" x 84" overall, these spacious L-shapes offer plenty of workspace and storage - $399 each
2-Drawer Lateral Files - 30"W x 20"D, these offer lots of filing and make great printer stands as well - $250 each
Guest Chairs - High Quality with beautiful wood frames, these are made to last - $75 each
SAVE EVEN MORE ON A WHOLE SUITE (1 DESK, 1 LATERAL FILE, 2 GUEST CHAIRS) - JUST $650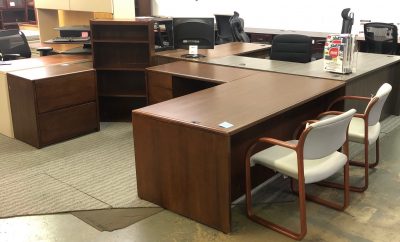 Complete Kimball Office set up
Quality Office Cubicles
Hundreds of these high-quality used Office Cubicles are now available.
This is a great opportunity to outfit your offices with quality cubes at bargain prices.
These can be configured to meet a variety of spaces and needs.
Our cubicle expert can help you to plan space.
Call today -- 732-370-5544 -- for more information.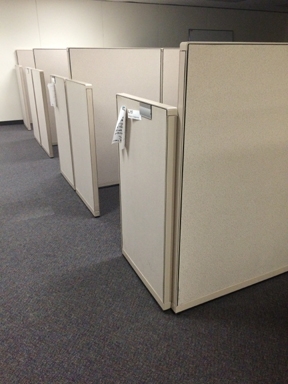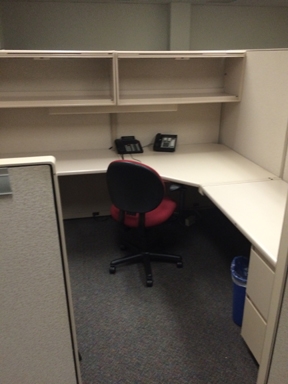 Extended Height Chairs
Whether you're drafting or just sitting at a tall counter, a quality Extended Height Chair makes all the difference in comfort. We have several Extended Height Chairs available at drastically reduced prices. These scratch and dent chairs are in great condition and have never been used, so it's like getting a brand new chair at a used chair price!
Starting at Just $99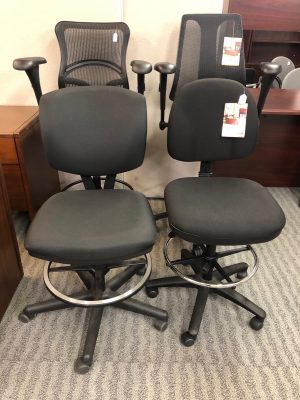 Simple, Comfortable, Inexpensive
This is a simple, but comfortable chair from the Lorell Soho collection.
It's a brand new chair , assembled and ready to go, at a great price!
Just $75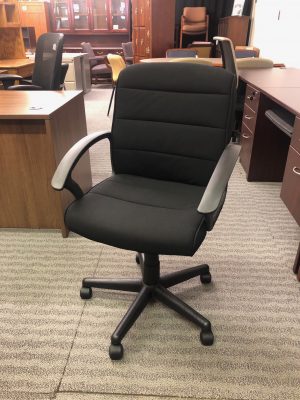 Traditional Caged Front Bookcase
This Traditional Caged-Front Bookcase makes a great addition to your traditionally - styles office or library. High-quality construction and excellent condition are the icing on the cake. Measures 58.5"W x 13.5"D x 52.5"H, shelves are 12"D. This beautiful bookcase is yours for...
Just $399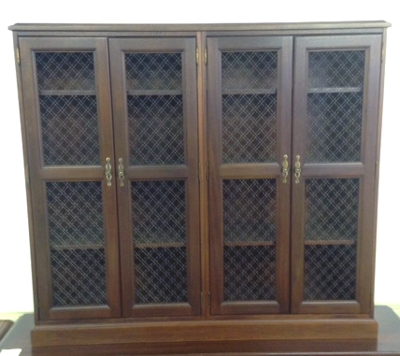 Filing Cabinets at Great Prices!
E.J. Schuster's is loaded with metal filing and storage cabinets at low prices.
Commercial Quality Four Drawer Filing Cabinets Starting at Just $75
Commercial Quality 2-Drawer Filing Cabinets Starting at Just $40
Come to our showroom at 1084 Brook Road, Lakewood and see for yourself!
SPECIAL: While Supplies Last, Get FREE Hanging File Folders with purchase of any Filing Cabinet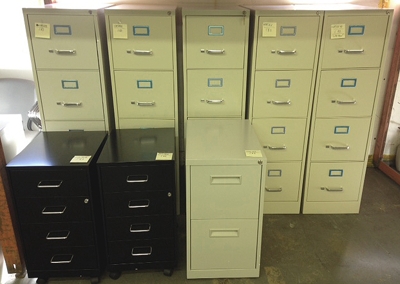 Big & Tall Chairs at Great Prices
If you're a larger person and you've never felt comfortable in your office chair, you owe it to yourself to try a chair built for you.
Big & Tall chairs offer upgraded construction and proper sizing for bigger people. You don't know what you're missing if you've never had a chair properly sized for you!
The only drawback is that these chairs usually also come with a big price tag. Well, no worries there! E.J. Schuster's has great B&T Chairs in great condition at low prices
You can even come in and try them before you buy (just call 732-370-5544 for an appointment)
PRICES START AT JUST $150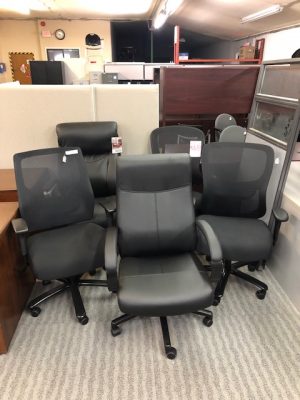 HON Crio Big & Tall Office Chair
HON's Crio Big & Tall Chair offers height- and width-adjustable arms and an adjustable lumbar support for terrific comfort without looking oversized. This high-quality B&T chair usually sells for almost $400, but this one is availagble at...
JUST $185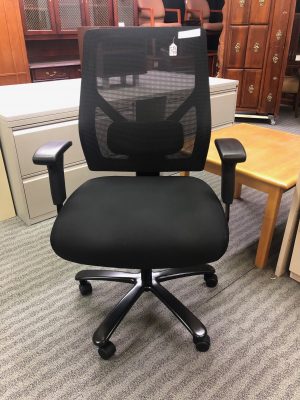 Executive Mesh Back with Head Rest
This Executive High Back Chair offers many adjustments and the extra comfort of a headrest. Quality construction and great features usually means a price well over $300, but this one won't set you back nearly that much...
JUST $150

SOLD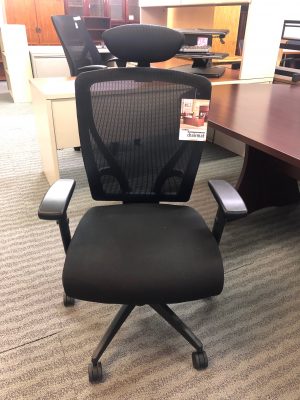 HON 500 Series Lateral Files
HON 500 Series Lateral Files feature the quality you'd expect from this great manufacturer.
These are the 36" Wide 4-Drawer model in great condition.
Brand new these sell for well over $700 each, but these are...
Just $399 each
Two remain at this great price
PLUS: While Supplies Last, Get FREE Hanging File Folders with purchase of any filing cabinet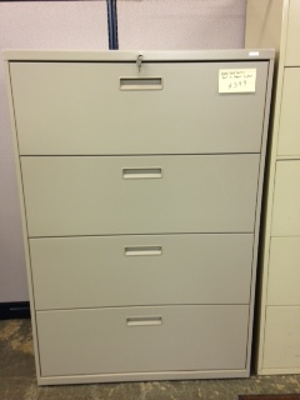 Need Isolation? Office Cubicles at Great Pricing
If you'e looking for isolation in your office these Desk & Panel set ups from HON Office Furniture might be perfect. Each desk is a standard 30" x 60" with a set of drawers. The included partition panels provide a number of configuration options. Set ups like these normally cost thousands, but each one here is just...
$750 each
Two available at this great price